UN Watch Briefing Latest from the United Nations – Irwin Cotler
Following is an extract from this week's Globe and Mail article profiling our board member Prof. Irwin Cotler. UN Watch is deeply grateful to Prof. Cotler for the singular role he has played in supporting the international advocacy work of UN Watch, including his leadership at UN Watch's annual Geneva Summit for Human Rights.
For Irwin Cotler, neither a pandemic nor retirement from politics can slow his fight for human rights
As a lawyer, justice minister and advocate, he's spent decades opposing injustice — and at age 80, he says there's much more work to be done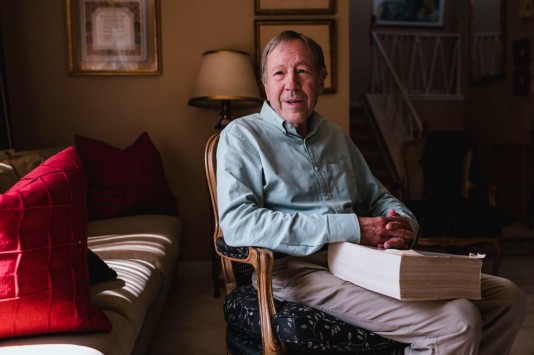 Irwin Cotler, shown at his Montreal home in early September, is a veteran lawyer, human rights advocate and and former federal cabinet minister.
Canada's GLOBE & MAIL | 
October 3, 2020
By Michelle Carbert
Irwin Cotler wouldn't be intimidated.
It was 1978, and the young Canadian law professor was living in the Jewish quarter of Damascus as part of his summer travels across the Middle East. He knew he was being followed by Syrian officials, who surveilled the Jewish minority. One morning, a man knocked on his door.
"He takes me outside and takes me somewhere," Mr. Cotler says, "and two people are hung, dead, in this courtyard."
Mr. Cotler was taken to a jail cell. Hours later, interrogators showed up. "He says to me, 'Now you will tell us whatever we need to know, or what happened to those people you saw earlier will happen to you.'"
They told Mr. Cotler his presence in the Jewish quarter, where he attended synagogue, was prohibited. He didn't deny he was a practicing Jew; he questioned why it was a problem.
"I wanted the Jews there to know I wasn't afraid," he says during an interview at his home in Montreal.
He was released and told to leave the country.
At the same time, Mr. Cotler was defending another Jewish-rights activist a world away: Natan Sharansky, who was facing trumped-up charges of treason and espionage in the Soviet Union.
While in Syria, Mr. Cotler learned his client – the first political prisoner he'd ever defended –would face trial in what would become a defining case of his career.
In the decades to come, Mr. Cotler transcended the legal world as a lawyer, professor, member of Parliament, and justice minister, using his roles to advocate for the release of dozens of political prisoners. At the age of 80, he continues to take on new cases – always for free.
Mr. Cotler's fight for human rights has taken over his modest split-level house. The living room coffee table is covered in news clippings, legal briefs, and reports.
Downstairs, more papers pile up on two folding tables in the den – a temporary measure that appears to have become more permanent as Mr. Cotler works from home during the pandemic.
The global health crisis, coupled with the rise of authoritarianism in countries such as China, Russia, and Iran, has him concerned the political prisoners he has spent his life defending will be forgotten.
"The authoritarians can act worse under the cover of the pandemic because the democracies are not united in effective, moral, concerted leadership," Mr. Cotler says. "That's what keeps me up at night."
He is urging democracies, including Canada, to speak up against the increasing attacks on human rights and call for the release of political prisoners such as Nasrin Sotoudeh of Iran, whom he calls the bravest human-rights lawyer in the world today. After defending opposition activists, Ms. Sotoudeh was sentenced last year to 148 lashes and 38 years in prison.
"The democracies, which should be at the forefront of standing up for this woman, are dealing, yes, with a global health pandemic, but are ignoring the global political pandemic."
Papers cover a table in Mr. Cotler's den, where he's been working from home during the pandemic.
After his retirement from politics five years ago, Mr. Cotler's advocacy work found a new home.
In 2015, he founded the Raoul Wallenberg Centre for Human Rights, a Montreal-based organization dedicated to promoting human rights, advocating for political prisoners and combatting injustice around the world.
The group works in the memory of Mr. Wallenberg, a Swedish diplomat who saved 100,000 Jews during the Second World War by issuing them diplomatic passports and sheltering them in safe houses. […]
Mr. Cotler turned 80 in May and had been dealing with some health problems, including diabetes, kidney disease, and a blood clot. His health has stabilized since the pandemic because he has been forced to stop traveling.
But retirement is not on the table. The political prisoners he defends give him the energy to keep working. "If they can suffer and advocate from prison, I can certainly advocate from the luxury of a free and democratic country," he says.
The legacy of Mr. Cotler lives in the changes he made to Canada's justice system, in the legal community he inspired and in the political prisoners he defended. For Justice Abella, he's not just a man of his times – he's a man who changed the times.
"He's our gift to the world," Justice Abella says. "If we didn't have Irwin Cotler, we'd have to invent him."
To support the vital work of UN Watch, please contribute here. 
UN Watch is an independent human rights group founded in 1993 in Geneva, Switzerland, receiving no financial support from any organization or government. We rely on the generosity of charitable donations. Thank you for your support.
tel: (41-22) 734-1472 • fax: (41-22) 734-1613
www.unwatch.org