Weill Cornell Medicine Experiences Dynamic Growth in Research Funding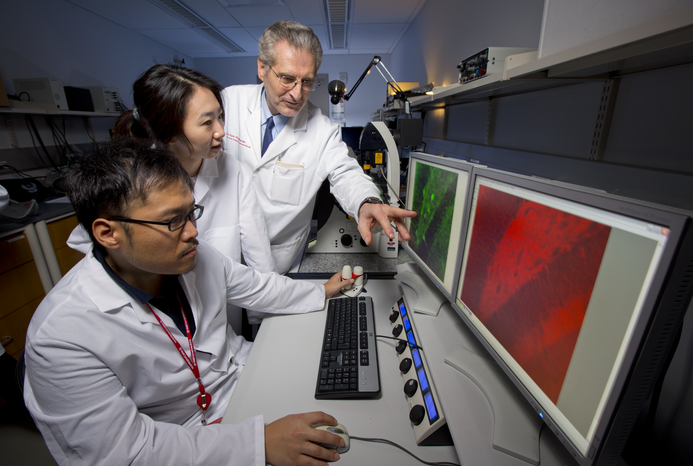 Weill Cornell Medicine has experienced dynamic growth in its research enterprise over the past five years, an achievement that underscores the institution's mission to provide patients with the most advanced treatments and therapies.
Since 2014, Weill Cornell Medicine's research support from the National Institutes of Health has surged more than 40 percent. This expansion in the research enterprise coincides with the opening of the Belfer Research Building, which serves as the hub for the institution's translational research efforts, and has led to the recruitment of more than 40 accomplished biomedical researchers to augment the thriving community of existing faculty.
"From our earliest days, Weill Cornell Medicine has been committed to improving human health through scientific discovery," said Dr. Augustine M.K. Choi, the Stephen and Suzanne Weiss Dean of Weill Cornell Medicine and Provost for Medicine at Cornell University. "Our expanding research enterprise—thanks to the Belfer Research Building and our community of distinguished scientists—will enable us to have an even greater impact on healthcare and biomedical science for years to come."
The Belfer Research Building offers state-of-the-art laboratory space for some of the world's leading scientists to engage in high-impact research. It headquarters many interdisciplinary centers and institutes established in the past decade — including the Sandra and Edward Meyer Cancer Center, Caryl and Israel Englander Institute for Precision Medicine, Gale and Ira Drukier Institute for Children's Health, Helen and Robert Appel Institute for Alzheimer's Disease Research, Jill Roberts Institute for Research in Inflammatory Bowel Disease and Feil Family Brain and Mind Research Institute — whose fundamental and translational research activities receive consistent grant support.
To extend these programs, Weill Cornell Medicine has recruited prominent investigators whose innovative research has garnered significant NIH funding. Overall, there has been a 35 percent increase in the number of Weill Cornell Medicine investigators who are funded by the NIH. Research support from the NIH is a key factor in how U.S. News and World Report ranks the nation's medical schools; the news magazine recently ranked Weill Cornell Medicine No. 9 in its 2019 Best Medical Schools for Research listing. This recognition, along with an increase in our peer assessment score, reflects the institution's active growth in its research activities, which have been further supported and expanded through collaborations with its outstanding partners and affiliates.
Located in the world's premier healthcare corridor, Weill Cornell Medicine enjoys robust research collaborations with some of the best academic medical institutions in New York City—including NewYork-Presbyterian, Memorial Sloan Kettering Cancer Center, The Rockefeller University and Hospital for Special Surgery—as well as with many of its other partners and affiliates around the globe.
U.S. News's top-10 ranking also underscores Weill Cornell Medicine's continued excellence in its educational programs. Since its inception in 1898, Weill Cornell Medicine has cultivated a reputation as a leader in biomedical education, consistently attracting the highest caliber of students with consistent academic success.
A new curriculum introduced in 2014 reinforced the importance of research in medicine, introducing a capstone requirement called the Areas of Concentration program that requires each student to select an area in which to obtain in-depth knowledge, skills and scholarly effort. Third-year medical students devote at least six months to their individual research project, cultivating a scientific mindset that will facilitate later efforts to advance clinical standards and improve treatments.
Weill Cornell's longstanding commitment to training physician-scientists has yielded a robust pipeline of future leaders in academic medicine. The institution ranks first the country in its training of physician-scientists, according to the Association of American Medical Colleges, with nearly 40 percent of Weill Cornell Medicine medical school graduates becoming full-time faculty at an academic medical center. Twelve percent of its graduates are M.D.-Ph.D. students, more than any other graduate school in the country.
Weill Cornell Medicine also strives to foster an entrepreneurial spirit among its faculty, trainees and students, encouraging them to translate their research findings into new treatments and therapies. To support these efforts, the institution established research alliances with pharmaceutical companies and cultivated relationships with venture capitalists and private investors to fund Weill Cornell Medicine's research innovations. Complementing these additional mechanisms for research support, Weill Cornell Medicine has also established several initiatives that provide investigators with a fully funded, fully staffed, unbroken pathway from the lab bench to the marketplace.
"We are incredibly proud of our outstanding clinical, research and educational programs," Dr. Choi said. "All of our endeavors are guided by the essential principle to improve the health and lives of our patients. Weill Cornell Medicine is on the forefront of this work, and I look forward to seeing what more we can accomplish together."